Purchase Downloadables

You can enjoy downloadable versions of our products without ads or an internet connection! For one price, you can download any and all products that we have available for download. If we add more downloadables, they're yours at no extra cost.

Payment can currently only be made through PayPal. However, you do not need an account with PayPal to make a payment, you only need a credit card. Your credit card information will never be seen by anyone at Brainormous.

___________________________________
Step 1: Purchase
Click one of the price buttons to the right. This will take you to a PayPal screen to complete the purchase.

When you make a purchase, Paypal will send you a confirmation email within a few minutes letting you know that the payment went through.

___________________________________
Step 2: Download
Within 48 hours, you'll receive an email from Brainormous with a password and instructions for downloading our products.

NOTE: Software purchases are to be used on computers and local servers only. They cannot be posted on a public website.

___________________________________
Questions
If you have any questions at all, check out the Help page for answers. If you can't find what you're looking for there, a contact email is at the bottom of that page.





NOTE: It may take up to 48 hours to receive download information.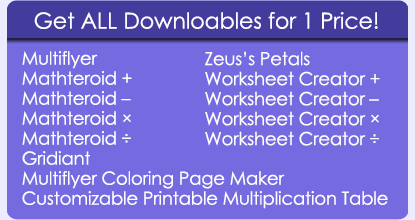 * Home use: All computers in your home

* Classroom use: All computers in your classroom (excludes computer labs for use by the whole school, for that, make a School Use purchase.)

* School use: All computers in your school. If you want to buy for multiple schools, go to the contact page and send an email with the number of schools to receive details about special rates